Project Management Success – Everything You Need
Do you have what it takes to be a successful Project Manager? Project Management requires a particular skill-set, and you must maintain a professional education in the field. That being said, it can be highly rewarding. The median annual Project Management Manager salary is $124,372, as of January 31, 2016 (salary.com).
Do You Have What It Takes to be a Project Manager?
Although every project is different, each requires a planned, organized approach. Do you have what it takes to be a project manager? What personality type fits best into project management? Read more…
20 Things Every Project Manager Should Know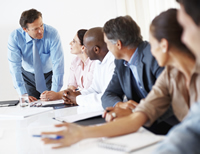 Here's a quick, handy, up-to-date list of "must-haves" for all project managers—aspiring, novices and experienced alike. Pin it to your cork board, hang it on the fridge and send it to your colleagues. Either way, use it as both a reference and reminder of how you can be on your project management "A-game." Read more…
Beyond 40 Hours: Continuous PM Learning
I
t's really important for project managers to think of themselves as students. No matter what industry you're in, chances are that you're constantly facing changes—or new developments—in business, and that affects your scopes, processes, resources, and plans. One minor enhancement can change everything, and you need to keep up. Read more…
How to Maintain Your PMP Certification: Dues & PDUs
Once you've earned your PMP certification you should know what's required to keep it current; that means paying dues & earning professional development units. Simple Steps to Maintain PMP Certification